F6C TICA Savannah Kittens
F6C TICA Savannah Kittens
Price: $400.00
Name:

Devan

Posted:

10/20/2020

Phone:

4354960643

Email:

Email Seller

Location:

Nevada
ID #62007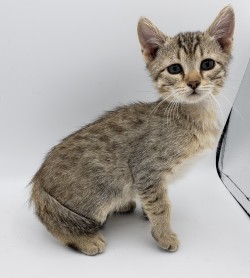 There are 5 males and 4 females I believe. Silver, and goldens. Some are spotted and others are marbled. Due to their owners extreme illness and unable to raise them they have asked me to help with placing kittens. Their mom was spayed and lives happily in a new home.
They are TICA registerable. I just sent off their litter registration. Some of the kittens are very sweet and there are a couple that are a little shy but warm up fast.
I just took them for shots and check ups. These guys are priced low to find good homes quickly and because they are not as well socialized as I would prefer. But with some time and attention they will warm up quickly. They like to sit with me but a couple are a little more skiddish.
I can possibly bring to Salt Lake City area.
Questions please text me as I do not check the emails.