Bobcat Kittens born June 26, 2020
Bobcat Kittens born June 26, 2020
Price: $2,500.00
Name:

Wayne Sluder

Posted:

04/08/2020

Phone:

501-580-1532

Email:

Email Seller

Location:

Arkansas

Website:

NA
ID #48478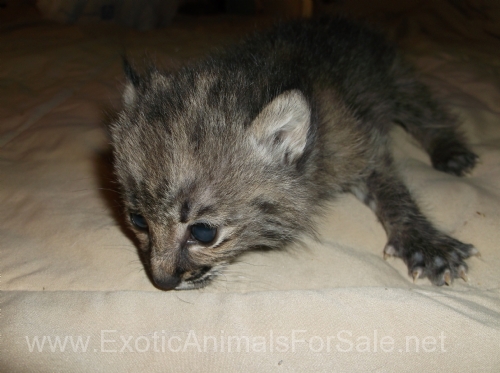 July 01, 2020. Litter born June 26. Taking deposits now.

April 15 2020, price updated for 2020/2021. Price for kittens is $2500.



April 2020, price updated for 2020. Price for kittens is $2000.





November 11, 2019 price reduced. Lowered price to $1650.

November 3, 2019 added phone number to listing. 501-580-1532. Thanks

We have two male bobcat kittens born on Oct 3. We are bottle feeding and socializing the kittens. They will be available starting at 4 weeks of age. We are a USDA facility. We follow all federal and state regulations. Potential buyers will need to provide references, and be willing to interview describing their level of experience. We require a $400 deposit. Potential buyers must pass all of their local ordinances in regards to exotics. The kittens will be examined by a licensed veternarian who will provide a health certificate. We will work with you and help with all necessary paperwork and requirements. Shipping is paid by the buyer. However, we will help where we can up to and including private delivery. Deposits are non refundable. We work very closely with buyers and provide pictures and updates of the kittens growth. We are very concerned about the health and well being of our animals. We also require that buyers have the necessary habitat or other appropriate living quarters.

Email us for our phone number. We find that text messaging works best for us. Thank you! We look forward to discussing our kittens. We can and do provide pictures and videos as requested.