Bobcats For Sale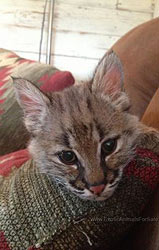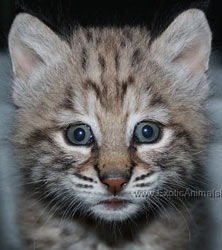 Owning a bobcat can be a gratifying experience, but it requires a lifetime commitment to responsible ownership. Bobcats are by nature wild animals, so owners must cater for their natural predatory instincts and habitat. The bobcat (Lynx rufus) belongs to the Felidae cat family and has twelve recognized subspecies. It gets its name from its short tail (about 5 inches long) that's white below and dark above.
No Bobcats currently listed for placement
Bobcat
It is a native America and it's the most widely distributed native felid in North America. The wild bobcat is found in the following areas, Southern Canada, United States, Central America, Mexico and south into northern South America. In the United States, the bobcat population densities are considerably higher in the southeastern region than in the western states.
The climate of the bobcat habitat is just as diverse as the areas in which it lives; this can include tropical rainforests, coniferous forests, semi-deserts, mountains, grasslands, deciduous forests, semi-arid deserts and coastal areas in the United States. The colder the climate is, the bigger would be the bobcats found in that area. The bobcat's coat provides camouflage that enables it to survive in the different climates. Its coat is orange-brown, yellowish-brown, reddish-brown or grayish-brown with dark markings. In the winter the bobcat's coat turns closer to a grey color to blend with snow.
Housing a bobcat
Although bobcats are usually affectionate family members, they are still undomesticated and may have bad bathroom habits or be feisty at times and as a result they should have their own safe place to retreat to.
Ideally, bobcat owners should have both outdoor and indoor housing for their pets. A doggy door that leads to the decently-sized enclosure outside, should be added. Such a cage should be durable and tested. The doggy door enables bobcats to enter the house if they get nervous or frightened. The outdoor enclosure also keeps bobcats content and happy since it enables them to watch other animals outside. The outdoor enclosure should also be surrounded by perimeter fence so that no one disturbs your exotic pet. The perimeter fence will also guard against any possibility of theft or injuries.
Escape prevention is also a priority with bobcat ownership since non-domesticated animals often do not return like most domesticated cats. You should also consult your local authority or wildlife agency about the regulations and restrictions of owning a bobcat.
Bobcat Enrichment
Bobcat should be given spacious, naturalistic enclosures in which they can do most of the activities that they would enjoy in the wild. Some of the environmental enrichments that can be added to the enclosures include multi-level ramps and perches that they can use to climb. Other enrichments that should be provided include changes in the complexity and size of their installations, introduction of new objects into their enclosures and changes in diet.
What do Bobcats eat?
The diet of bobcats depends on their age, for the first 8 -12 weeks of their life, bobcats need to nurse. If you are hand rearing a young bobcat, it's recommended that you buy quality milk that has additional vitamins and calcium. The milk should be warmed before being given to the bobcat.
Once a bobcat reached about 6 weeks of age, start to add canned kitten meat diet to the milk. The amount of meat fed to bobcats should be increased as they grow.
In the wild, the diet of an adult bobcat consists of various foods and they usually feed on what's local in their habitat. In the wild diet usually consists of small rodents such as squirrels, mice and rats. They also feast on a variety of amphibians, insects and reptiles. Pet bobcats should be fresh meat such as raw chicken or turkey. You can also rear rabbits for feeding your bobcat. Commercial cat food can also be fed to bobcats, but it should be supplemented with meat. Vitamin supplements may be added to the diet but this depends on the quality of meat you provide for your bobcat.
Some bobcat breeders recommend that bobcat owners should simulate wild conditions by not feeding their cat every day, but allowing it a one day off between large meals.
You should be wary if you have other small pets in your house such as rodents or reptiles since your bobcat will instinctively view them as potential food.
Breeding
Bobcats breed once yearly. As a rule, male bobcats don't breed until they are nearly 2 years old. Juvenile female bobcats are capable of breeding in their first year of life. They usually mate in the early spring, although the timing is variable. Male bobcats are driven away by the females after breeding, and the males seek other females. After a gestation of around 60 to 70 days, a litter of around three kittens is born. The kittens are born well furred and have spots that can vary in design and shape. The kittens open their eyes for the first time when they are ten days old, and they nurse through their second month. Their mother's milk provides them with further nourishment. Female bobcats bring meat to their young and teach them how to hunt after they're weaned, staying with them for nearly one year. Male bobcats don't help raise their offspring.
Characteristics
Bobcats range in length from 30 to 50 inches, stand about 2 feet high and weigh from 15 to 30 pounds. The male bobcat typically weighs from 11kg to 16kg (24-35 pounds) and the female bobcat weighs 4kg to 15.3 kg (8.8-33.7 pounds). Large tufts of fur on the cheeks are characteristic of bobcats. The fur is yellowish-brown, reddish-brown, grayish-brown, reddish-brown or orange-brown above and a whitish below, and black streaks or spots are throughout the coat. Bobcats molt twice a year. Their summer coat is generally more rufus colored and their winter coat is grayish in color, with black tipped guard hairs. Bobcats have prominent, well pointed ears with a pinch of black hair at the tip. They often emit eerie screams during the night.