Raccoons For Sale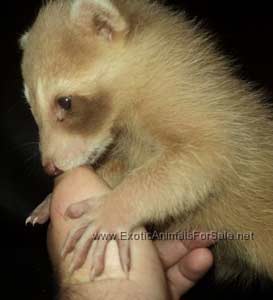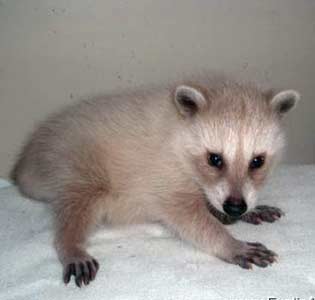 Raccoons
Of all the pets that are available to people the world over, most never consider a raccoon. Unbeknownst to them, raccoons can be great pets since they are curious, mischievous, and most often plain old fun to watch and be around. The trouble, to begin with, is that in many areas of the country, they are illegal to have as pets. As a result, it is important that you learn from your local regulatory agency whether it is legal or not to have a raccoon as a pet before you get one.
Getting a Raccoon as a pet
The most important thing to remember about getting a raccoon is that they are wild animals. Even those that are raised in captivity can lead wild behavior and should be treated accordingly.
Perhaps the best way to get your feet wet with a raccoon as a pet is to purchase one from a breeder. The good news is that raccoons can be very friendly, if properly raised. They do, however, often get into mischief. They can be litter-box trained with a little patience. When you purchase your raccoon, try to purchase one that is still being fed with a bottle. Feeding him this way while still young helps in the bonding process.
Raccoons can be high-strung if they are raised alone. If they are raised with another animal, they are usually calmer, but when they get older, they will tend to calm down.
Raccoons are curious and will get into everything. This includes cabinets and cupboards, which often have dishes in them which will end up broken on the floor after your raccoon has found them. When they do you need to correct them like they were a dog, it just takes patience.
Housing Raccoons in Captivity
Just like a dog or many other animals, a raccoon likes to have a place that is their own. For this reason you should provide them with a box or some other bedding area. Raccoons are also naturally nocturnal, so a closed box that is filled with soft bedding is best. When your raccoon is very young he should be put into his bed with something warm.
Outside time is good for raccoons. Even if you have a fenced in yard, it is good to keep your raccoon inside of an enclosed pen with a top on it. Raccoons are great climbers, and whatever you put him in he will get out of. Raccoons are great escape artists. The only real limitation is not to use a small pen for his area. That's asking for trouble. Make sure that the pen you provide is large and roomy for them to exercise in.
Another matter that often comes up with raccoons is their housebreaking habits. Raccoons can be house-trained just like a dog or cat. They should be provided with a box filled with litter and told that that is where they do their business. They will often choose someplace else, but just like a cat once that place has been found, the evidence should be removed and cleaned thoroughly, and their attention returned to the box as quickly as possible. They will eventually learn.
Enrichment for raccoons
Again, it is important to remember that a raccoon is a wild animal and given to instincts of their natural world. As a result, treating your raccoon just as you would a dog or a cat, allowing them to just lay around the house, will not work well. A raccoon that is treated like any other house pet is a bored raccoon, one that will find himself in trouble a lot.
Fortunately, giving your raccoon enrichment in their life can be fun for you and them. Raccoons love to play. They love to explore. They love to have fun. You should give them places to play, toys to play with, and most importantly, your time to be with them and keep them occupied. You will both be happier for it.
What do raccoons eat?
Your raccoon's diet varies widely. When they are young, raccoons should be fed kitten milk replacement from a bottle. It is important to remember that raccoons will overeat if allowed to do so. As a result, you should feed them until they are full, but not to the point where their stomach feels tight.
As your raccoon gets older, his diet will approach what he would eat in the wild. Unfortunately, as an omnivore, a raccoon will eat virtually anything. Making things even more complicated, their diets often change throughout the season. You might include such ingredients as worms, insects, and other invertebrates along with plant material including fruits. The bottom line is that they will eat whatever is available, whenever it is available. If what you have is less esoteric, you might want to look out for Grain-free dog food is a good staple food to give daily to your pet raccoon but you need to supplement the kibble with poultry, fish, or eggs along with a large amount of fresh vegetables, fruits, and whole prey items such as mice.
It is important to keep in mind that whatever they are fed, raccoons like to make a big mess when they eat. They especially like to wash their food before they eat, so for that reason they should be provided with a large bowl of water for this purpose.
Veterinary care
Just as is the case with many exotic animals, most veterinarians won't treat them. Instead, you need to find a veterinarian who specializes in or will treat exotic pets. Once you find a veterinarian who will treat your raccoon, treat him right since he will be a great source of help to you in the future.