Skunks For Sale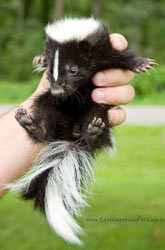 Pet Skunks
If you decide that you would like to own a skunk as a pet, the first thing you need to do is to make sure that owning one is legal in your state. And if a state does allow private ownership of a skunk, you will probably be required to have a state wildlife permit to own one.
Housing a Skunk
Skunks are much like a dog or a cat, with some exceptions. Like a dog or a cat, a skunk can and should be house broken. This task is accomplished much like that for a dog or a cat. Skunks can learn to go outside, or use a litter box, but if you do allow it to go outside, make sure he is kept within a fence since skunks have no natural homing instinct, which means they can wander away and not find their way home. If you keep your skunk indoors, it is best that they be given a cage since allowing them to roam unsupervised can lead to them finding their way into cabinets and all sorts of other places where they can easily get into.
Enrichment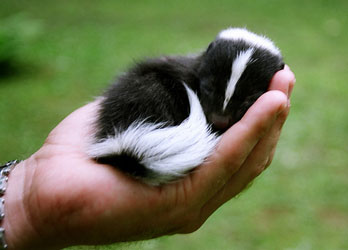 Especially if you begin your skunk owning adventure when they are a baby, handling and playing with them will result in them being docile and fun loving. As a result, they will become a part of the family. Try to avoid playing roughly with your pet skunk as this will result in him learning to be aggressive when they are older.
Skunk smell
Do Skunks smell as pets?
The odor of a skunk, which is a natural defense when they feel threatened. If a skunk is sold as a pet, the odor glands will have been removed, although they might still know to raise their tail if threatened. Having your skunk spayed or neutered when young is highly recommended.
What does a skunk eat?
Skunks cannot eat most processed foods. As a result, you will need to prepare the food. That diet consists mainly of small amounts of vegetables and fruits, cooked grains, and small amounts of chicken or turkey. Should be fed multiple small meals a day. Baby skunks need to eat several times a day, similar to other babies. Even as adults they need to eat 2-3 times daily. In the wild, they eat constantly throughout the night and part of the day. Therefore, their digestive systems are designed for eating small meals frequently.
Skunks are native to North America, and are even mentioned in some of Christopher Columbus's logs. Farmers have always loved skunks since they are natural predators to many rodents and other pests.