Wolves For Sale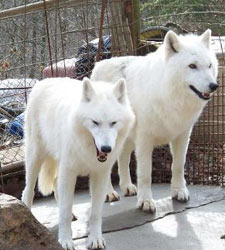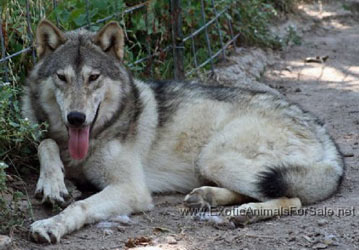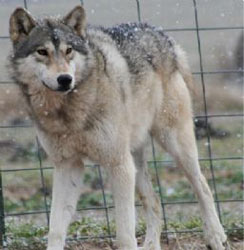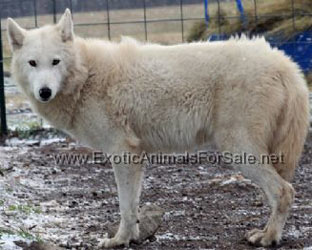 Wolf
Wolves are made for endurance hunting. They may be slower than the prey they are chasing over short distances but they have superior endurance over long distances. They can travel up to 10 miles each day looking for food. You will find them in hunting packs that will help the wolf to have an advantage when hunting deer, elk and other ungulates. Most wolves are considered carnivorous, eats only meat, but there are some like the Maned Wolf which is omnivorous, eats plants and meat. Depending on the species of wolf, they can weight from 50 to 100 lbs.
The best cage design for wolves is one that is circular. A cage with corners will give a spot for one wolf to aggressively corner another wolf. Also wolves will try to climb and jump in corners. The wolf is a climber and can climb a chain-linked fence. You will need to have an enclosed top or a overhanging climb barrier that is a chain-linked section that is about 3 feet wide and is set at an inward and upward angle of 40 degree. They will try to dig out so you will need to lay wire horizontally about 1 foot underground and 3 feet out to prevent them from escaping.
Housing a wolf
Housing outdoors in the winter. Species of wolves which are naturally found in cold climate will do fine in a cold climate area but will need access to a dry sheltered area that will protect them from rain, wind, sun and extreme cold. A shelter area should be provided for each wolf. Straw should be spread on the floor of the shelter to provide a dry bedding that can be easily cleaned. You can use a heated water bowl to provide clean drinking water at all times. Warmer climate species will need supplemental heat when the temperatures go below 40 degrees Fahrenheit. The can be accomplished by installing a space heater, heat pads, or heat lamps. Make sure the heat source is secure and the wolf cannot knock it over or lay too close to it and get burnt. Warm climate species of wolves will whelp, give birth, during the winter. If you are expecting pups, you need to keep the shelter area at 50 degree Fahrenheit or above for the pups.
Housing outdoors in the summer. Wolves do well in the summer heat if shade is provided for each wolf. You can also provide a shallow pond or pool for them to cool down in when needed. Make sure the water level is safe for small pups if any are present. They will also need to have access to clean cool drinking water at all times.
Wolves in captivity can be fed a high quality dry dog food diet. Raw meat, bones and whole or partial carcasses can be feed periodically. Clean water needs to be provided at all times for drinking.
Vaccinations that you should have administered is for rabies, parvo virus, canine distemper, leptospirosis and corona virus.