Foxes For Sale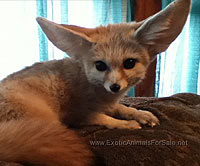 Owning a Fox as a pet
There has been a lot of research lately around domesticating foxes. Even though these wild animals are full of energy, in the right environment they can become an important part of any family. However, there are still some drawbacks of owning a fox. In this article, we will study both the ups and downs of owning a pet fox, outlining the importance of keeping your pet in a safe environment.
Should you Choose a Fox?
Before thinking about buying a fox, there are some things you need to know. First of all, owning a fox is not like owning a cat or a dog. These are wild animals and are subject to special regulations. These regulations vary from state to state. For instance, if you live in Arkansas, you cannot import foxes from other 19 states, including Ohio, Texas, Montana or New York. However, you are allowed to catch a fox in the wild and keep it as your pet without any permit. In Indiana, Michigan, Nebraska, Oklahoma and Virginia, you can also capture foxes in the wild, but you are required to pay a yearly fee of between $15 and $30. In Illinois and other several states you are not allowed to capture a fox in the wild, but you have to purchase one from the store or a licensed breeder. In most of these states, you need to keep your fox in a pen at all times. Therefore it is important to check up with your state's specific regulations regarding foxes as pets.
Another important thing you need to know is that foxes have to be domesticated. You need to be ready to spend time domesticating them if you really want to reap the benefits of owning a fox as a pet.
Domesticating a fox
Domestication is much more than taming. If domesticated, a fox can exhibit affection towards you. Domestication includes breeding, offering attention, playing with your fox and careful monitoring. A good daily habit includes walking your fox on a leash. However, you need to ensure that it is legal in your state to walk your fox around.
Patting and brushing your fox should also be part of your daily interactions with your little pet. As she gets to know you, you should make sure you treat her kindly and show her that you are not the master here, but the friend. The fox should be used to you touching it all over so that way when a vet touches the fox for health checkups, the fox will already be used to it/
Housing a fox - The Importance of a Secure Environment
One of the most important aspects of owning a fox as a pet is housing. Foxes can live either outside or inside, but it is recommended to construct a comfy housing that fits your new pet. Because foxes are extremely active creatures, they need a large pen of at least 200 square feet. When building the fence, dig down about 2 feet in the ground and put the fence in the hole in order to prevent foxes from digging and escaping the pen. Additionally, top off the fence in order to prevent the fox from climbing out. There are many reported cases where the fox has managed to escape the pen by climbing out of it.
In addition to the fence, you should purchase or build a big dog house and equip it with blankets and hay. Do not forget about the food.
A Healthy Diet - Enable your Fox to Enjoy Life
Usually, foxes eat fruits, vegetables and small animals when wandering in the wild. However, you can also feed your fox raw meat, fish and top-quality dog food. Grown foxes consume about 1.5 pounds of food per day. Carrots and cabbage are a must in a healthy diet, as they help improve the digestive process. However, try not to feed your fox potatoes and tomatoes. In the end, the quality of your fox's diet can be noticed by the condition of the fur.
The Bottom Line
Owning a fox as a pet is definitely a one-in-a-lifetime experience, both exciting and time-consuming. Try to make your fox feel as comfortable as possible by playing with her regularly, providing a shelter, food & water and by using a vacuum, shampoo, brush and nail clippers to keep her clean. In the end, your fox will be more than grateful for everything you've done for her.
A group of foxes are called a skulk or a leash.
The male fox is called a reynard
The female fox is called a vixen
A baby fox is called a kit.